You are here:
BLOG -
WHAT'S GOING ON?
Sunday, 01 November 2009 00:00
The first event staged by Jobeky Drums saw a mouth watering line up of UK manufactures and drum clinics and as a result, drew a good sized crowd to the Staffordshire Showground.

It's easy to forget the wealth of home grown custom drum options with the mass marketing budgets from the North American and Asian markets and the show served as a one stop shop to try out the fabulous array of (mostly) hand built drums.

The new range of wood veneer drums from Jobeky looked stunning and with seemingly endless options with cherry, walnut, oak, sapele, bubinga, and maple among the finishes to choose from.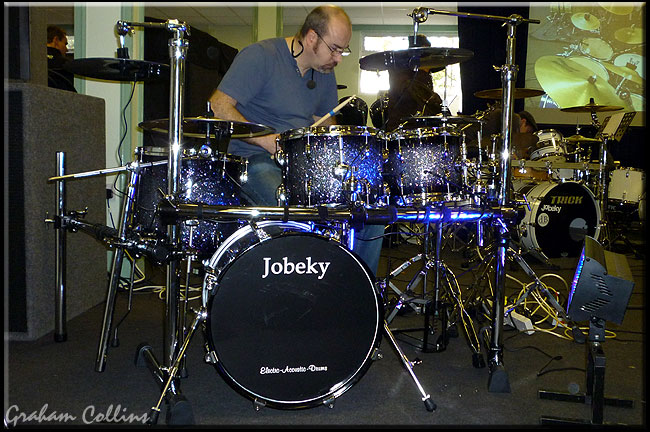 They drew a lot of attention and showed just why more and more top flight drummers are bringing the Jobeky 'e' drum element into their kits. The drums even managed to entice Al Murray away from his pint at the bar!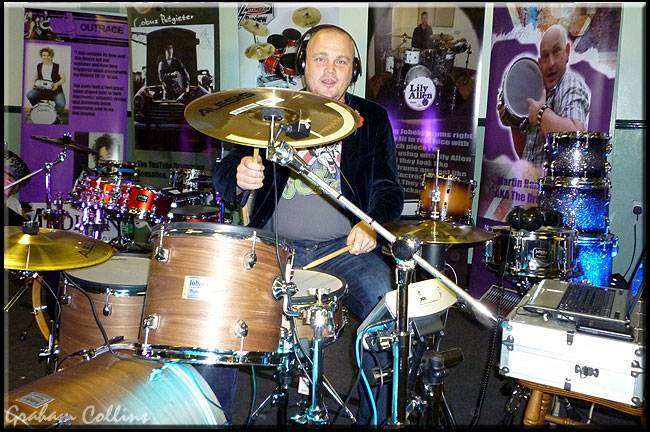 It was great to finally meet up with Kevin from Duallist and to check out the recent enhancements to their pedal range. Judging by the amount of activity on their stand, Duallist's rise as force to be reckoned with in both single, double and triple pedals continues.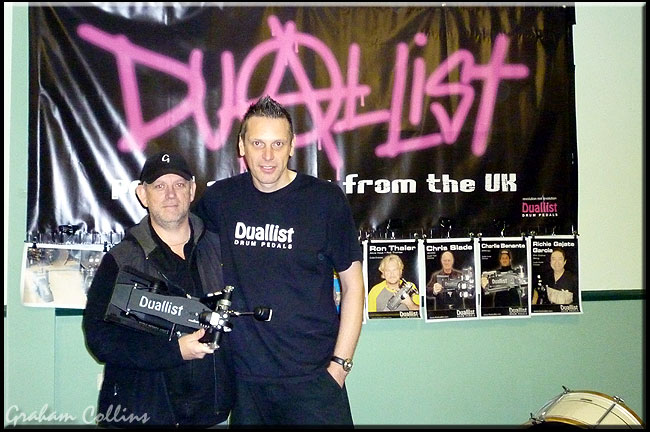 Clinics ran through out the day with each drummer seemingly complimenting each others varied style.
Stand out drummers for me were of course, the awesome Karl Brazil (James Blunt, Robbie Williams, Feeder) who gave a very varied display of drum techniques, perhaps the stand out was this awesome jig.
Robin Guy is what I call old school Rock 'n' Roll from the Keith Moon academy of drumming.
Not only is he a unique showman with stick and performance trick second to none, a stunning technician, he also has a wealth of handy tips and tricks to share.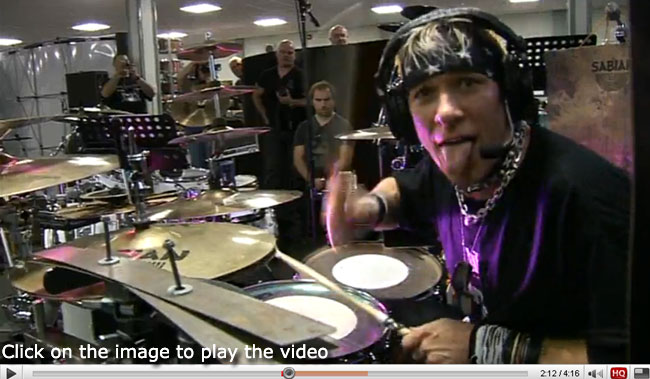 Cobus Potgieter, the YouTube sensation, flew in from South Africa to make his debut on the clinic stage and performed on one of the new Jobeky kits. Although "insanely" nervous, his performance shone through and he delighted his many fans who had travelled to see him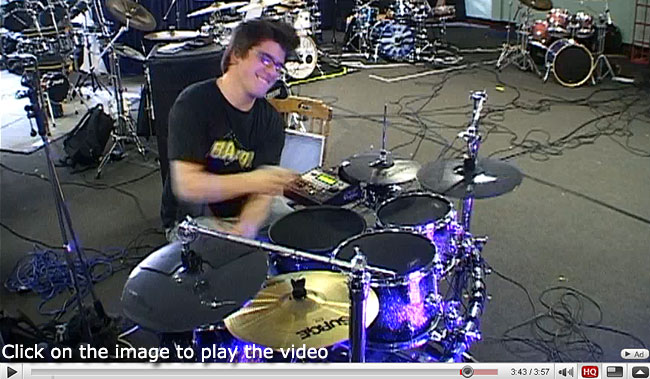 It's not everyday that you come across a Snare Drum with your name on it! This snare was made by Carrera Drums to commemorate the 'Stick It To MS' World Record and contains the names of the drummers from the Mike Dolbear Forum who were a part of the World Record.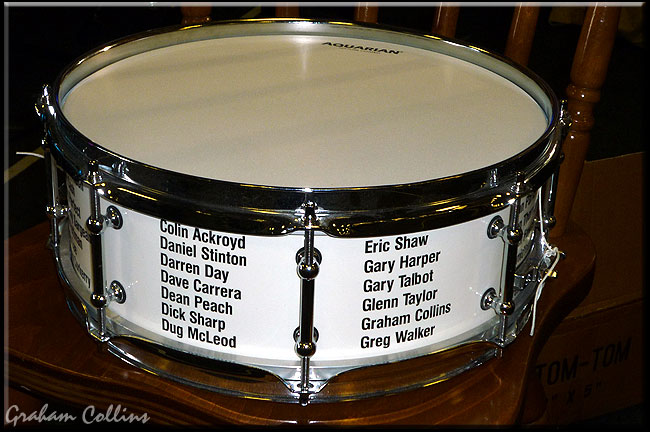 Although this was the first show Colin and Jane (from Jobeky) had staged, you would have thought they were old pros as (on the face of it) everything ran smoothly and if there were any dramas, we weren't aware of them.

Many good contacts were made during the day which left me with plenty of food for thought as to future drum, cymbal and percussion purchases and I hope that the Jobeky UK Custom Drum Festival becomes an annual fixture on the calendar.
I AM VERY PROUD TO ENDORSE
Latest News Blog Updates