You are here:
BLOG -
WHAT'S GOING ON?
October saw three shows with Taylormade, and all were stunning venues, either country manor houses or converted barns, such great places to play.

My first weekend off from drumming in a couple of months, thankfully coincided with the London Drum Show at Olympia which also gave me a chance to meet up with some friends.
Apart from nearly being injured when part of the ceiling came down during Craig Blundell and Steve White's excellent clinic, I found the event very interesting and useful.

The highlight for me was stumbling across a new name in drumming to me, Jonathan 'Ginger' Hamilton. When you list who he works with, Jessie J, Pixie Lott, N Dubz, Peter Andre and Kelly Rowland etc,I know many would raise an eye brow, but he's stunning gospel based style of drumming was simply stunning. A joy to watch and hear.

As ever with these events, there was plenty of gear that you would have liked to have tested, but the cacophony of sounds rendered that impossible, but still, plenty of ideas and food for thought.

Perhaps for me, the new Roland SPD-SX (which I could play under headphones) is the newest product on display that is most likely to appear on a stage with me in the near future.

That same weekend, I was incredibly flattered and honoured to be featured on the UK's leading drum website, Mike Dolbear.com. A profile interview of my career in music and drumming can be found at mikedolbear.com
As the month drew to a close, I was approached to supply some demo drums for a couple of bands. Both sets seemed well received and appear to be on going projects, so I hope to perhaps report on those further next month. 

All in all, it seems my drumming profile and progress is on an upwards path. Very exciting!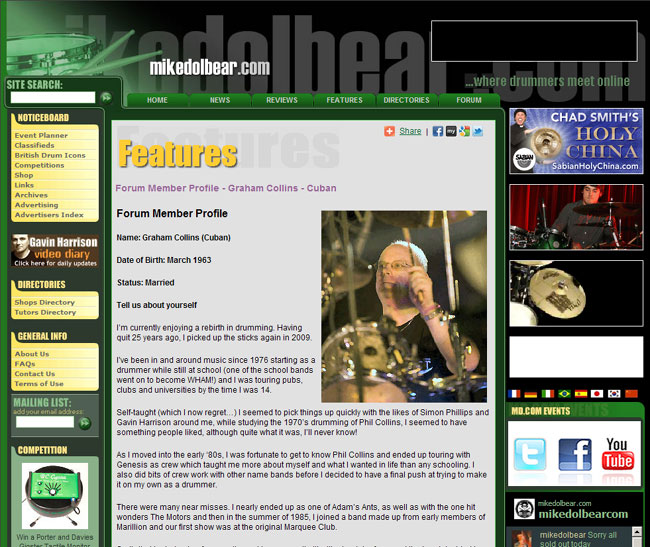 I AM VERY PROUD TO ENDORSE
Latest News Blog Updates