You are here:
BLOG -
WHAT'S GOING ON?
Tuesday, 20 April 2010 10:04
With around six weeks before I was due to play my first show in 1/4 century, I started to develop a lot of pain in one on my arms. Not one to run to the Drs, I ignored it but naturally it just got worse, so I had to visit the Drs just over two weeks before the first show.

Damage to the tendons was the cause and ironically, for the most part, drumming didn't hurt and playing didn't cause it, moving the kit about was the culprit! A combination of going out into very cold winter nights from a hot rehearsal and lifting the kit 4 times in a day including up two flight of stairs - twice!
Back then, this was all the gear I was moving - and as you will shortly read, that has increased to almost double the size in the past few weeks, and I now shift 24 items - anyone want a job as my roadie?!

A two week course of a strong anti-inflammatory along with the use of an arm brace, failed to do anything, so just days before the first show, I was told I needed a steroid shot to help it mend!
That would result in me not being able to use the arm for a few days, so naturally with a rehearsal, production rehearsal and then the first show over the next few days, it had to be put on hold, the show must go on.

I've lived on the maximum prescribed dosage of pain killers (every 2 hours) since and thankfully they did get me through the first show, although the arm was massively swollen after the 1 hour 45 set and having to change the way I play certain parts to avoid pain wasn't ideal!

So tomorrow I get shot and with the next show just under 3 weeks away, hopefully it is enough time to let it heal and let the steroid do it's job, but I hope there is no long term issue and naturally it has woken me up somewhat and I will be taking better care in future.

I have cut down the usage of my own kit and thankfully can use the rehearsal room kit (a nice sounding PDP) and I will also try to cut down the movement of the kit up flights of stairs, as then the full strain is put on the elbow to wrist muscles, as well as risking potential back issues!

So there you have it, a warning shot you might care to take note of.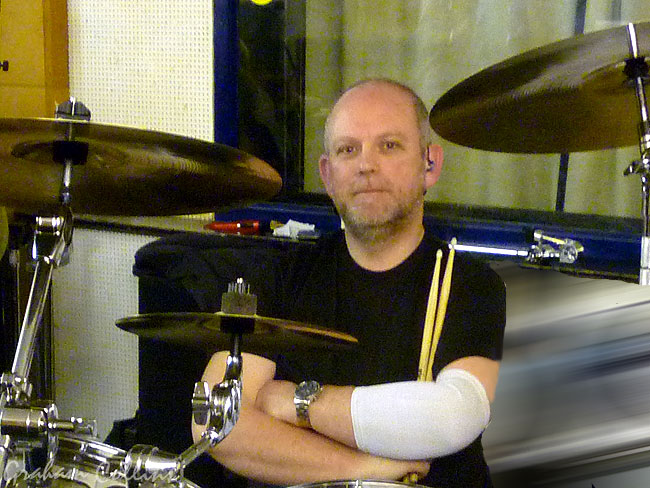 I AM VERY PROUD TO ENDORSE
Latest News Blog Updates